Contemporary Perspectives on Leadership Learning
This series is dedicated to contemporary perspectives on leadership learning, which includes leadership teaching, education, development, and scholarship. The series is intended to appeal to academic researchers, leadership scholars, leadership educators, and university instructors looking for thought provoking reference material for classroom use. The purpose of the series is to highlight foundational knowledge and emerging innovations in scholarship on curriculum, pedagogy, and methodology of teaching and learning in leadership. The series will feature entire volumes written by authors and edited volumes with multiple contributors. Each volume will showcase a different topic critical to the research and practice of leadership teaching and learning. With this approach, the mission of the series is to examine the complexities of leadership learning from a variety of perspectives to give the audience access to breadth and depth of scholarship in this area, as well as provide contemporary reference material and textbooks for leadership learning in the classroom.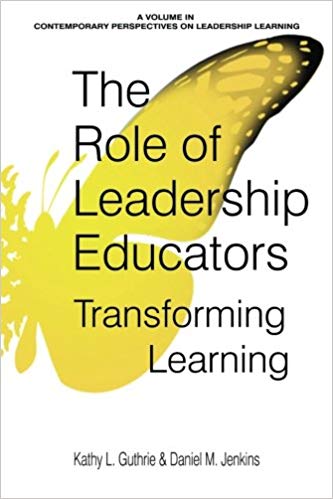 The first volume, The Role of Leadership Educators: Transforming Learning by Kathy L. Guthrie and Daniel M. Jenkins, provides valuable information of leadership education. As professionals in higher education, we are constantly asked to provide opportunities for students to learn leadership, whether that is inside or outside of the classroom. However, very little, if any professional development occurs in how to create such learning opportunities. This book provides resources for leadership educators in three sections. The first section sets the stage for leadership education and the professional work of leadership educators, culminating with a variety of professional development resources for leadership educators. The second section introduces a leadership learning framework, provides characteristics and examples of strong leadership programs and assessment practices, and describes the transformative practice of leadership education. The third and final section offers specific instructional and assessment strategies ranging from discussion, case study, and reflection, to team-based- and service-learning to self-assessments, role-play, simulation, and games, to fulfill learning outcomes.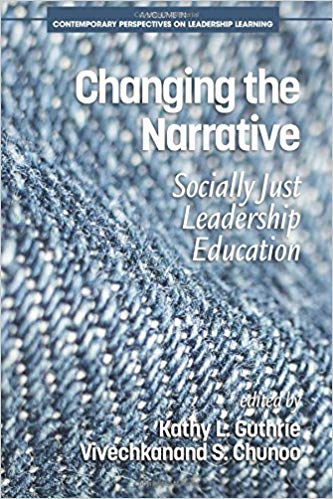 The second volume, Changing the Narrative: Socially Just Leadership Education by Kathy L. Guthrie and Vivechkanand S. Chunoo, is now available. Social justice and leadership education are inextricably linked. In order to move social justice forward, we need to develop leaders with knowledge, skills, and values to engage effectively in the leadership process. Changing the dominant narratives in society involves preparing skilled social critics and knowledgeable advocates for positive and sustainable change through education. However, when leadership education fails to consider social justice issues, or when social justice education omits leadership learning, both fall short of their goals. This texts links issues of social justice, equity, and equality, to leadership knowledge, skills, and values, with the intent of offering theoretical, practical, and policy recommendations to improve the work of educators charged with preparing undergraduates for the complexities of leadership in all its forms. Collectively, the contributors inform much needed practices and pedagogies toward socially just leadership education.