The Center's staff members engage in various research projects related to teaching, learning, pedagogy and practice of leadership. We currently produce annotated bibliographies on various topics in leadership theory and practice. We also support the development and publication of the New Directions for Student Leadership source book series and the Contemporary Perspectives on Leadership Learning book series. Click on our publications tab for an entire listing of downloadable papers and resources.
Research Projects
At the Leadership Learning Research Center, we strive to produce high-quality research related to the teaching, learning, pedagogy, and practice of leadership. We believe this work is vital to the understanding of leadership in society, as well as in setting future directions for policy, practice, and additional scholarly pursuits.
While each of our research staff members have their own philosophies, theories, conceptualizations, biases, and methodological preferences related to scholarly inquiry, our current projects focus on the modern landscape of leadership programs, how undergraduates embody social change leadership values, cultural relevance in leadership learning, leadership learning through social media, and the impact of leadership learning on certificate alumni. We disseminate our results and findings through publications in scholarly journals; presentations at regional, national, and international conferences; and invited speaking engagements. For brief descriptions of our ongoing projects, please see the following sections.
---
New Directions Sourcebook Series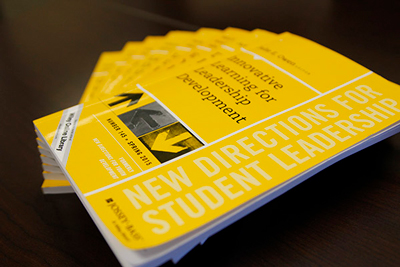 New Directions for Student Leadership is a quarterly sourcebook series which explores dimensions of the development of leadership in high school youth and college students to aid leadership educators who design educational courses and programs for students.
The series, edited by: Susan R. Komives, Editor, and Kathy L. Guthrie, Associate Editor, explores leadership conceptual and pedagogical topics of interest to high school and college leadership educators. Issues in this series are grounded in scholarship featuring practical applications and good practices in youth and adult leadership education.
Please visit the New Directions for Student Leadership website for more information on the sourcebook.
Available Issues
No. 172 (Winter 2021): Leadership Education through Complex Transitions
No. 171 (Fall 2021): Advancing Racial Equity in Leadership Education: Centering Marginalized Institutional Contexts
No. 170 (Summer 2021): Using Inventories and Assessments to Enhance Leadership Development
No. 169 (Spring 2021): Leadership Learning through the Lens of Social Class
No. 168 (Winter 2020): Evidence-Based Practices to Strengthen Leadership Development
No. 167 (Fall 2020): Followership Education
No. 166 (Summer 2020): Spirituality and Leadership
No. 165 (Spring 2020): How Academic Disciplines Approach Leadership Development
No. 164 (Winter 2019): Becoming and Being a Leadership Educator
No. 163 (Fall 2019): Centering Dialogue in Leadership Development
No. 162 (Summer 2019): Leadership Development through Campus Employment
No. 161 (Spring 2019): Leadership Learning through Activism
No. 160 (Winter 2018): Cultivating Students' Capacity for International Leadership
No. 159 (Fall 2018): Integrating Critical Perspectives into Leadership Development
No. 158 (Summer 2018): Role of Mentoring, Coaching, and Advising in Developing Leadership
No. 157 (Spring 2018): Leadership Development for Career Readiness in University Settings
No. 156 (Winter 2017): A Competency-Based Approach for Student Leadership Development
No. 155 (Fall 2017): The Role of Student Organizations in Developing Leadership
No. 154 (Summer 2017): Critical Perspectives on Gender and Student Leadership
No. 153 (Spring 2017): Going Digital in Student Leadership
No. 152 (Winter 2016): Developing Culturally Relevant Leadership Learning
No. 151 (Fall 2016): Assessing Student Leadership
No. 150 (Summer 2016): Leadership Development through Service Learning
No. 149 (Spring 2016): Leader Developmental Readiness: Pursuit of Leadership Excellence
No. 148 (Winter 2015): Engaging Youth In Leadership for Social and Political Change
No. 147 (Fall 2015): Student Leadership Development through Recreation and Athletics
No. 146 (Summer 2015): Developing Ethical Leaders
No. 145 (Spring 2015): Innovative Learning for Leadership Development